C H A R A C T E R ❖ N A M E:
Rain
G E N D E R:
Female
A G E:
She looks 18, but she is over 2000 years old.
Her species, "Elf", can be immortal if in healthy conditions. They live on unless they are killed in battle or die by sickness. If they maintain themselves healthy, they can live till the world ends itself.
R A C E:
Other
S P E C I E S:
Elf
(also a "werefox". Which is almost like a "werewolf", but instead, she takes the form of a black fox.)
P H Y S I C A L ❖ A P P E A R A N C E:
Lean and very agile, yet strong enough. She has long midnight black hair that tumbles below her hips. She measures 5'5 in height, and weighs 91 pounds. Her eyes are a rare mix of cyan & gray combined, making her eyes appear like an electrifying blue flame. Rain's skin is slightly pale, but she still has a hint of color. When she does not want to be identified, she wears her white hooded cape, which has a elven symbol printed in the center of the back. She also usually wears black leather clothing and a thick belt at her hips. On the side of her leg, there is a mini army knife strapped upon her black leather jeans. Rain practically looks human, except she has long, thin, pointy ears, but her long hair is thick enough to cover them. Her eyes are rather rounder and larger than that of an average human girl. She looks delicate, but that's not the case. When traveling, she usually holds her white elven longbow at hand, unless she is really unable to. Her "werefox" form is that of a black fox, with the same strange blue eyes.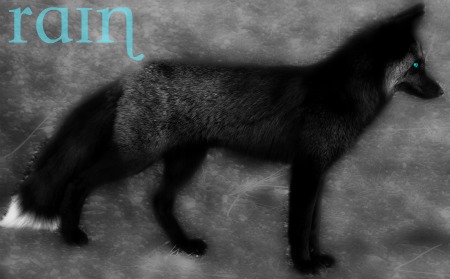 P E R S O N A L I T Y:
Rain has a temper, but with certain people, she can learn how to control it. At first, she may seem weak, delicate & shy, but that's only what she wants you to see. Once things get real, Rain is overall a determined, serious, & strong elfess. She is skilled with almost any weapon, except those that are extremely heavy. Rain relies on her longbow and light weapons, such as blades. Even though she may be rough and serious on the outside, within her, she is just sensitive and... quite a "softy". Rain is scared of making friendships with others, thinking they will betray her or be harmed in the end. This is mainly why she maintains herself strictly isolated, but perhaps someone could break through her hard shell. If so occurs, Rain is very loyal and open to that specific being, and would most likely be willing to risk her own life for them.
S K I L L S ❖ A B I L I T I E S:
Visioning || Mind-reading || Healing || Elven spells || Black magic
Some of the abilities above require a lot of her strength, and the black magic is forbidden for her to use, but she will if she has to. In return, she will be punished for using it later on.
W E A P O N S:
White Elven Longbow || Blades || Anything light & sharp
H I S T O R Y:
(Still working on it...)